Halloween is my second favorite holiday—#1 goes to Christmas—though it wasn't always like this. I wasn't a big fan of halloween as a kid because that entailed trick-or-treating, a.k.a. knocking on strangers' doors and asking for candy. I feared strangers and was strangely not a big fan of sweets so I didn't see the point.
It wasn't until after college when I realized what halloween was really all about: dressing the fuck up. For one day a year (give or take), you can dress as crazily as you want without being judged. (Unless you appropriate another culture, then I will judge you.) In fact, the more detailed you look, the better. I wish everyday was halloween but then that might make this holiday less special. Though we can all do with more costumed/themed parties.
Here's a timeline of my costumes over the past few years:
2009 Wolf
2010 Banana
2011 Max Fischer (Rushmore)
2012 the Eleventh Doctor (Doctor Who)
2013 Rocky Balboa
2014 Female trainer from Pokémon X/Y
And this year I was a…
Photo by Garage Academy
Bat!
Here is my costume in action, during Jeames' set last Friday.
Photo by Garage Academy
☠
Last Tuesday, I did my Halloween horror/scary/creepy movie of the year (I watch one horror flick a year because I am easily frightened, but I do like to see what all the fuss is about).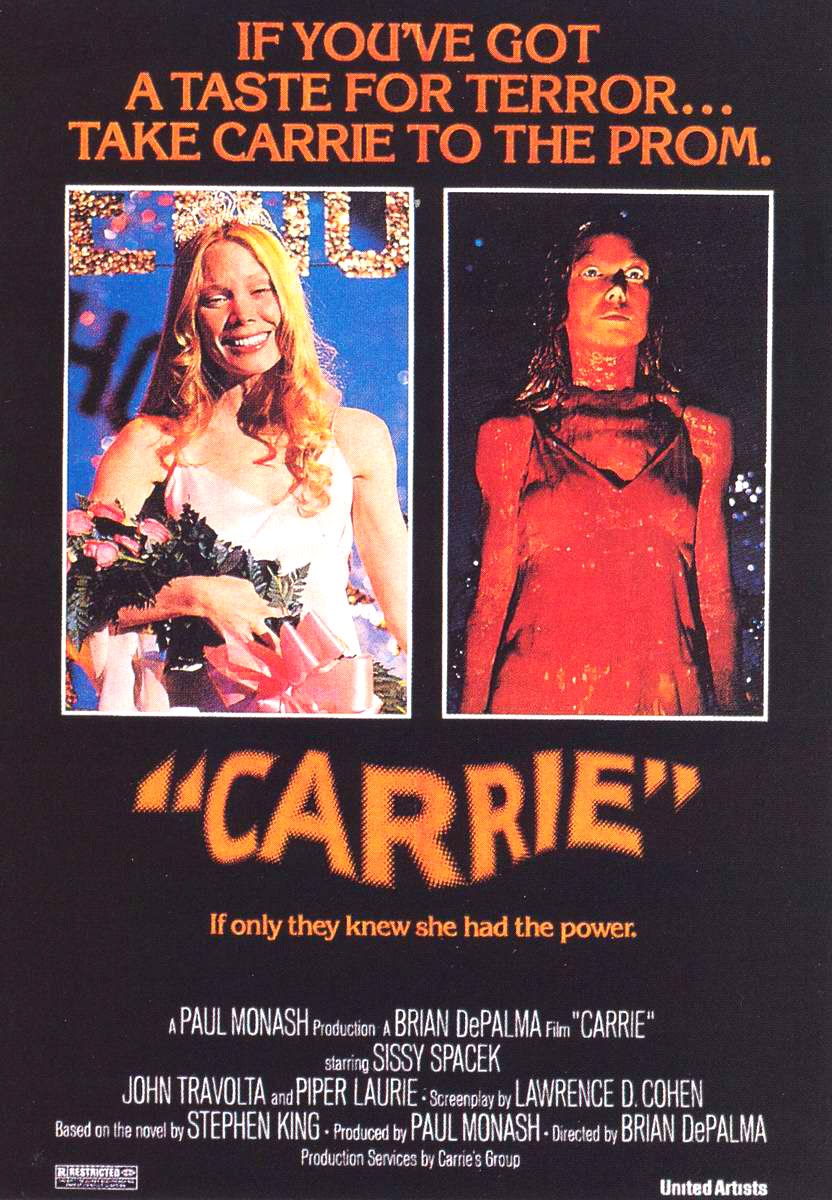 (source)
I've been wanting to watch Carrie for awhile. I had asked several people about this film before I watched it and they all said it was "very scary." Perhaps I'm gradually becoming more desensitized because I did not find Carrie scary at all. Not that that's a bad thing. It was definitely creepy, but I found it more tragic as it dealt with an abusive family environment and bullying in school.
The best thing about Carrie was the buildup. The film is iconic enough where I already knew what would happen, yet that did not lessen the suspense nor affect my reaction when she got dumped with the bucket of blood and all hell broke loose. I had wondered if she'd spare the people who showed kindness towards her, and I liked that she didn't. The ending was great even though it was sad, when she cried, "Hold me, mama!" and is stabbed by her mother, which escalated into a telekinetic stabfest. When the entire house burned down, it made me wonder, WAS Carrie White satan personified? She deserved better, yet she killed all those people, so maybe this was her consequence? Very real and phenomenal acting from Sissy Spacek. Was also surprised to see John Travolta! 4.5 out of 5 stars.
I wonder how the latest remake (starring Chloe Moretz) holds up. I'm assuming it'll be WAY scarier, simply because everything is scarier, nowadays. Even Doctor Who episodes can be spooky, and as a self-proclaimed non-horror-movie watcher, I watch every scene from the Walking Dead. (Though I do put the scariest scenes on mute).
Here's my Carrie-inspired outfit.
Shirt: gift
Skirt: Uniqlo
Socks: Shilin Night Market (Taipei)
Shoes: Doc Martens
Pin: Adam JK
I assumed this pin might be relevant (thought Carrie would triumph in the end), but I was wrong.
Ideally I would have chosen something similar to her prom dress, but I have nothing pink in my closet. The next best thing was to wear all red, as if I were drenched in pig's blood. I actually have the perfect dress for it, but it was dirty, so this was my best attempt. Schoolgirl skirt because they're in high school, lol.
For dinner, I made pork bolognese—again, pig's blood reference. (I make these outfit/food decisions prior to watching the films so I go with the most glaring references). It came out quite good and I made enough to feed myself and a friend for lunch.
On Halloween day, I went to see a Cantonese opera and spent the rest of the evening rewatching season 1 of Misfits with my friend. No late night LKF for me this year!